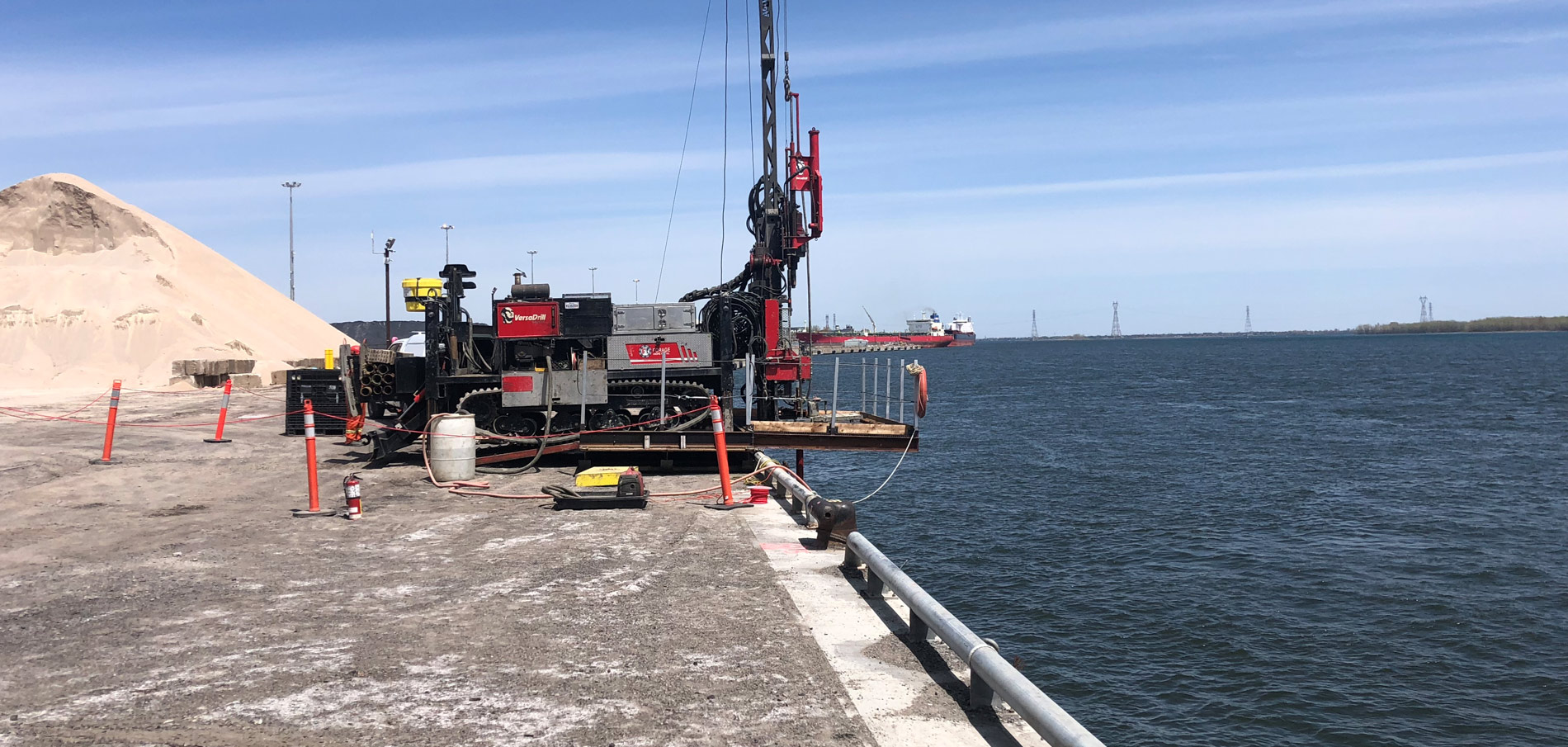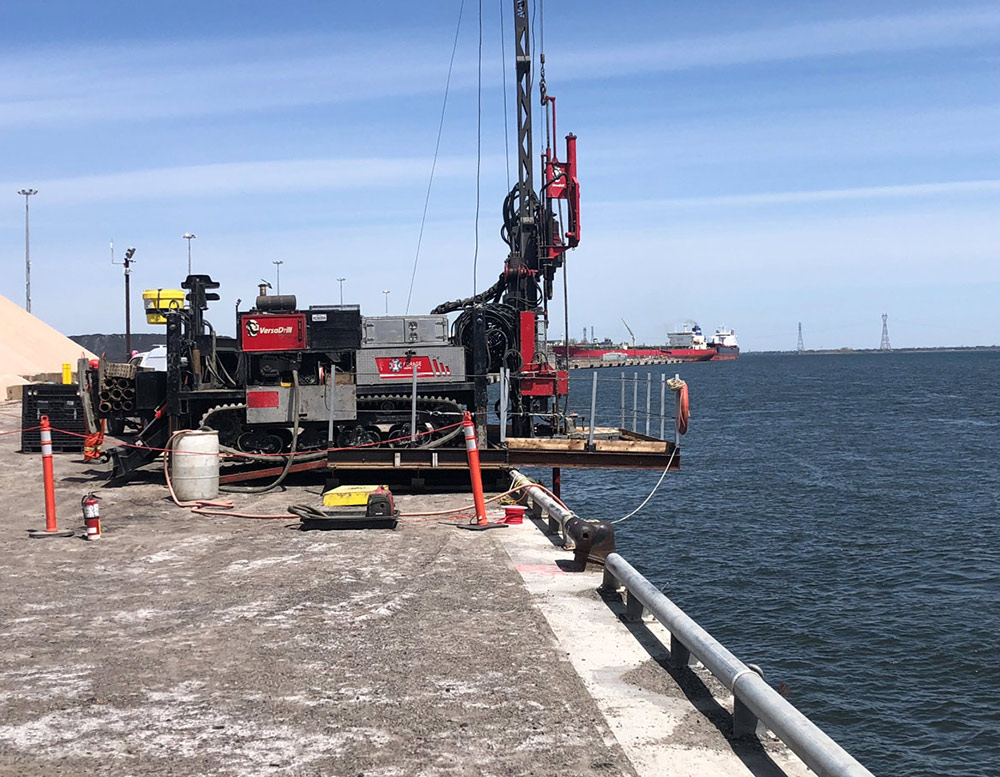 GEOTECHNICAL SERVICES

AND SOIL TESTING
Geotechnical services


Before getting started on any infrastructure project, the soil must undergo a geotechnical survey. The results of this survey will provide essential information for identifying the nature of the soil and for gauging its behavioral characteristics. The geotechnical survey's depth is decided in relation to the scope of the planned operations.


Geotechnical services
and
soil testing
Forage André Roy Drilling possesses a sizable fleet of state-of-the-art drilling equipment, geared to meet any and all needs of our current and future customers. Our equipment is used to perform on site tests and retrieve samples, intact or reworked, based on customer expectations and project specifications.

Forage André Roy Drilling's knowledge, expertise and reputation has allowed us to win the major geotechnical soil testing contract for the metropolitan electrical network megaproject.

You will benefit from our staff's great expertise in producing accurate and detailed reports that provide our clients with all the necessary information for geotechnical drilling:

• Drilling operation results;
• Survey protocols;
• Reports on the various soil layers encountered;
• Detailed description of subsoil conditions.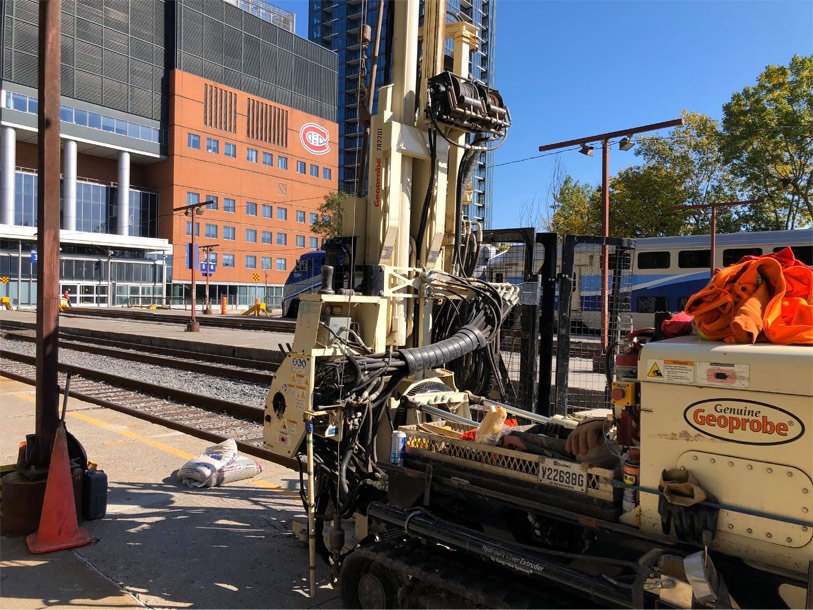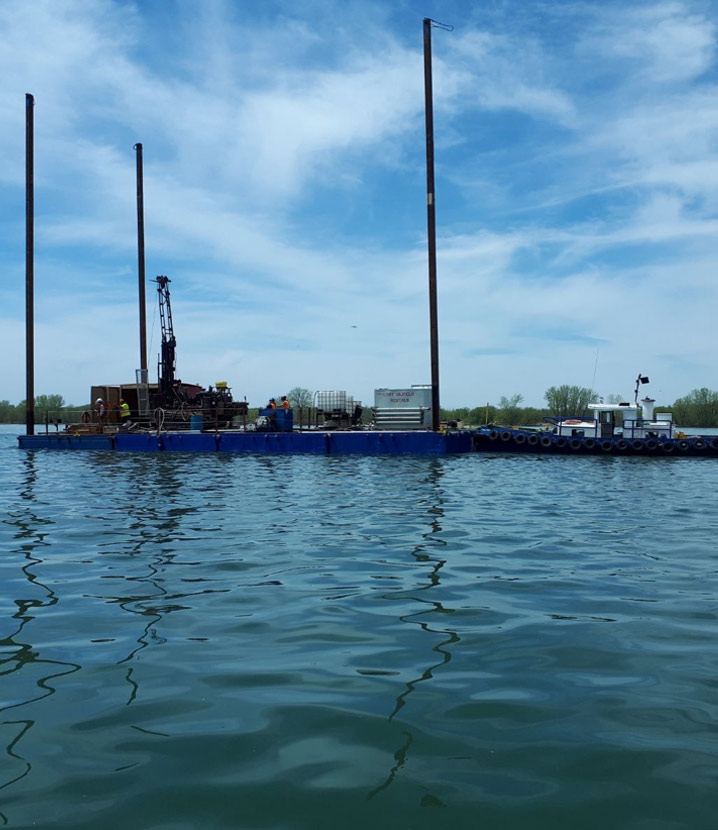 BARGE DRILLING
The barge fleet employed by André Roy Drilling is completely approved by Transport Canada and the Quebec Ministry of Transport. Powerful and secure, these barges were custom built in our mechanical workshops, keeping the specific requirements of this type of drilling in mind. Made from aluminium and able to be taken apart to pieces, some of our barges can be transported by helicopter to remote sites that would otherwise be inaccessible by land.

Forage André Roy Drilling's exclusive equipment is highly valued by our clients, like the Société d'Énergie de la Baie-James (SEBJ) and Hydro-Québec, who benefit from it to carry out geotechnical surveys in preparation for the construction of new dams, dikes and hydroelectric power stations.

Our barge fleet is also an essential tool in surveying the soil for the construction of deep water docks, bridge pillars over waterways, marinas, water intakes, dry docks, gas pipelines. or any other project that requires drilling on a body of water.

The Forage André Roy Drilling barges have participated in the realization of various high-profile projects:

● Samuel-de-Champlain, Madeleine-Parent, Île-aux-Tourtes bridges;
● Ports of Montreal, Quebec and Sept-Îles;
● Rivière Rupert, Rivière-du-Loup, Rivière-aux-Tonnerres, Havre St-Pierre, Trois-Rivières, Sorel, Port-Cartier, Pointe-Noire, Gaspé, Baie-Comeau, Natashquan, Blanc Sablon, La Tabatière, Îles- de-la-Madeleine, Escoumins, Tadoussac, La Romaine, Toulnoustouc, Bécancour, Les Méchins, Matane, Entry Island, Valleyfield, St-Pierre and Miquelon;
● As well as abroad as in Ghana, Antigua and Barbuda.





HELIPORTABLE DRILLING
Seeing as nature often imposes constraints that we have no choice but to reckon with, André Roy Drilling has mastered heliportable drilling, which allows us to intervene where the competition cannot go. Over the course of 30 years, the experts at André Roy Drilling have developed the required skills to prepare and install drilling equipment that is transported to the site by helicopter. It is no other than our unparalleled expertise in soil and rock surveying that is most sought after in the scope of these projects. Most of the time, this work leads to studies and analyzes essential to the construction of hydroelectric dams, dikes, power plants or other major projects.

Forage André Roy Drilling owns all the necessary equipment for drilling in remote areas with limited access, requiring transport by helicopter.